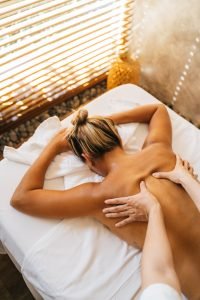 Massage is known as one of the oldest healing arts and its various origins are recorded in the annals of history from different parts of the world. It is greatly practiced by many cultures and has evolved into a multifaceted and holistic approach to improving general health.
Nowadays, massage therapy is known as an alternative and complementary medical treatment for other health fields. Chiropractic Wellness and Rehabilitation's team of registered massage therapists works in coordination with chiropractors, acupuncturists, physiotherapists and reflexology practitioners to provide a comprehensive treatment approach. Range of motion and the mobility of joints are vastly improved even if a massage therapist does not work directly on the skeletal system of the body.
Massage as a Natural Approach to Health and Well-Being
Chiropractic Wellness and Rehabilitation's massage therapists are experts in manipulating layers of muscle and connective tissue essential for addressing specific problems or for general well-being. Circulation is enhanced through the application of methodological pressure on the body. Various techniques are utilized to suppress motor-neuron excitability, facilitate the healing process, or improve function. Along with specific effects on targeted body parts, massage is also a prime promoter of well-being and relaxation. CWR's versatile massage therapy in Oshawa are favoured by residents as a source of relief from common aches and pains.
To learn about each of our Registered Massage Therapists, please hover over the "About Us" tab, then hover over "Massage Therapist" and select the practitioner of interest. You may learn about our clinical fees for Registered Massage Therapy by visiting the "Fees" tab.
Massage is also a powerful means of alleviating discomfort in the body. Sleep is vastly improved by relaxing massages. A massage by a registered therapist can also help people with the following conditions:
Neck, leg, and back pain
Whiplash
Stroke
Sprains, strains, and sports-related injuries
Conditions related to stress
Pregnancy support
Palliative Care and rehabilitation after surgery
Muscular spasms and tension
Bursitis and arthritis
Insomnia
Dislocations
Carpal Tunnel Syndrome
Breathing problems like emphysema and asthma
Gastrointestinal disorders
Illness such as Cancer, Multiple Sclerosis, and Parkinson's Disease
Holistic Therapy In a Professional Setting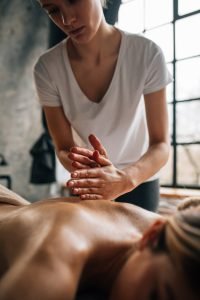 A professional setting allows CWR's registered massage therapists to properly provide treatment to all patients. It is more convenient to apply pressure on the body with the proper positioning on a massage table. A massage targets many tissues in the body superficially and can also stimulate internal organs so it is best rendered in an appropriate environment such as a chiropractic wellness clinic. Chiropractic Wellness and Rehabilitation's massage therapists also specialize in adjunct modalities and other massage methods.
Be Free from Stress and Discomfort Today
Massage therapy is quickly becoming an integral factor in the health and well-being of residents in Oshawa and the surrounding areas. You can have relief from aches and discomfort brought about by activities of daily living. Remove stress and tension that can affect normal functioning or aid in the development of illnesses. Schedule an appointment with CWR's qualified massage therapists and see the difference a massage can bring to your life.
Discover the benefits of regular massage therapy provided by licensed practitioners. Call the clinic at 905-720-1881 for therapeutic massage in Oshawa. You can also visit the Contact page for more information about its services and service areas in Oshawa, Whitby, Courtice, Brooklin, Port Perry, Ajax, Pickering, and Bowmanville.