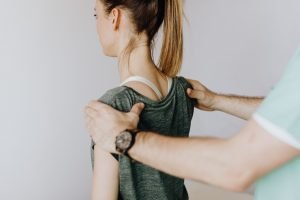 Founded by husband and wife Dr. Kristopher Edwards and Dr. Patricia Riley in 2008, Chiropractic Wellness & Rehabilitation provides their community with a natural, drug free and non-invasive alternative to conventional medicine.
Joined by fellow resident chiropractor Dr. Mana Akbari, the three of them, along with the rest of the staff at the clinic, are dedicated to relieving their patients of bodily aches and pains, and helping them achieve their health goals.
All of our resident chiropractors have extensive education and training in chiropractic care, and health and wellness. Similar to what is called physiotherapy in Oshawa, they offer customized Chiropractic physical rehabilitation treatment plans for each individual patient.
*To view each Chiropractor's bio, please hover over 'About us' and then hover over 'Chiropractors' and select the person you would like to learn about*
Contact Us Today
If you are suffering from back or neck pain or any other health problems, turn to Chiropractic Wellness & Rehabilitation. We serve Ajax, Bowmanville, Brooklin, Courtice, Oshawa, Pickering, Port Perry, and Whitby, Ontario. For more information, click here.